When God Provides Ravens — Part 2
Have you ever wanted to do something for the Lord but you just don't know how to go about doing it? Have you ever started something but never finished it? Have you ever thought about doing something but never actually started it? If the answer to these questions is yes, then you are like most people including me.
Some of you might have heard my story about how the Lord called me to become a missionary pilot in the Philippines.
Say, what?! Pilot training is super expensive. And…I am poor. Honestly. I don't have money to do that. I don't have a family to support me. I don't have friends or know anyone that can help me financially to do this.
No way.
But God asked me to take more than a leap of faith and honestly I do not know how to go about doing this for Him.
I didn't want to answer God's call
The Lord called me to missionary pilot training in 2014. But I sat in silence looking at my own capabilities and my own strength not to mention my own understanding and so for a year, I was hesitant to accept the call.
But praise God for my wife whom the Lord used to wake me up from my bed of procrastination and go do what God asked me to do.
"How long are you going to shy away from the Lord's calling for your life?" were the words that came from my beautiful wife.
It took months, but finally I had to give in. "Okay, Lord. I will do it."
So like many people who have goals and dreams and yes aspirations I went to a flight school and I applied. (Click here for full story)
Two years later after visiting many Seventh-day Adventist churches, sending out letters, videos and just talking to people. I was able to start.
What it costs
December 2016, I was enrolled in a flight school in San Diego, California as a "Medical Missionary Student Pilot". Nope, they don't have that particular course training in the school, but it was a self-appointed title I made up to let people know I'm not just here to monkey around with flying planes.
The training will cost $20,000 USD over a course of one year. I started school with $3,000 USD on my school account. After the first week of school, I was charged $1,000 USD. That's three days of classes, 4hours per day.
$1,000USD. Gone in three days. I don't know about you, but to me, THAT'S A LOT.
Now you see why I was shying away from this calling right?
In fact, I've heard it said in popular statistics that a lot more people started pilot training who never finished. No surprise. Hence, I was a bit anxious that I would be a part of that statistic.
So seeing we had only raised $5,000 USD towards my training, I realized I was not going to attend school anymore after three weeks of classes. Naturally, I went into panic mode.
I forgot about the God who fed Elijah using ravens as a medium to bring him bread. I forgot the God who is able to do the impossible.
But thank God that when we forget, He has a way of "rolling back the curtains of memories now and then and just show us where He has brought us from and where we have been."
I asked my wife to pray and fast with me. And so we did.
You see, I do not like to depend on people for anything. When the Lord called me to become a medical missionary I applied to a school in Wildwood, Georgia (USA) and I worked three jobs and paid for the training myself.
In fact, I was doing some calculations. And my training in Wildwood almost cost as much as my pilot training!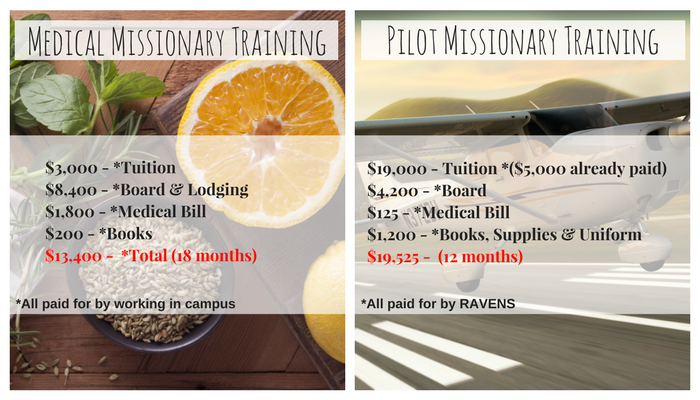 I asked no one for any financial help. But I do remember working myself to "death", if there be such a thing. After a year and a half, I graduated as a certified medical missionary. All the praise be to God.
Well, here's what I really want to say.  Because this time, it's totally different. How do I finish when I don't have a work "on campus" option?
Only God knows.
After praying and fasting, I was impressed decided to go on Craigslist (a website where you can lose your life if you're not careful) to see where I can find some way of helping myself. I had tried before and nothing worked. Scammer upon scammer on every ad.
Yet this time I found something. Someone from a landscaping company wants people to drop off fliers door to door. Easy right? Not selling anything. Just leave the fliers at the door and go home. So I called the number and no one answered. I then left a message. He called me back. We set an appointment. We met. And guess what. I will only be paid off commission.
What? So if I walked the whole week and no one called his company to have him work then I do not get a dime? Precisely.
Ok so what if someone called in and give him a job how much commission will I received? 5%. That's it.
I was like, wait a minute, I need $1,000 USD per week for school. This job would be a total waste of time.
But then I was reminded that "with man, some things may be impossible but with God all things are possible!"
So I sat there across Mr. E at the coffee shop. After relating to me the job description, he offered to pray with me. Why? Well, when we spoke on the phone earlier, he said he is having a hard time finding people to trust so I texted him the link to my ministry's website to verify my character. I guess, knowing that I'm a Christian put him in a comfortable position to pray with me. First time I'm meeting this guy, and he tells me, "Davin I hope that God will use my business to bless you with more than enough money to pay for your training."
This week, I spent my second day at work with him. Towards the end of the day he said, "Davin I found someone whom I think can help you and if it comes through don't thank me. Praise God because it's not about me, it's about Him."
Two days later I got this text message on my phone from Mr. E…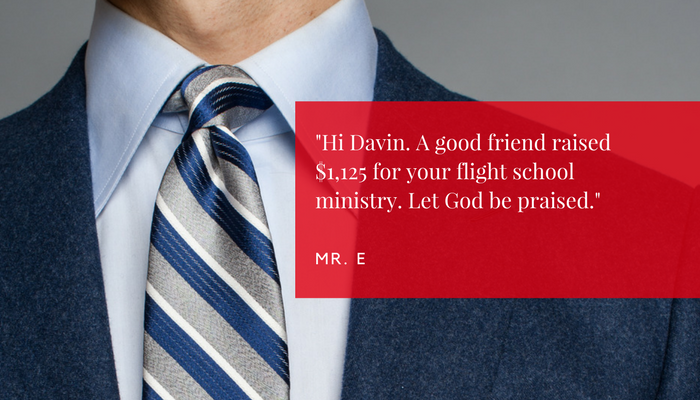 Ravens.
The God of Elijah is still alive and well today and He is willing to use the most unlikely of sources to feed me. Before I met Mr. E, my flight teacher asked me if I have a GoFundMe account set up to get donations because I told him that I am running out of money and may have to stop school for awhile. He said he has relatives that are very generous who are willing to help out.
Ravens, Raven, Ravens. I'm telling you. They are everywhere.
In less than a week, Mr. E shared my story with his friends and they were able to raise $1,125 USD for me, a missionary of weak faith who needed another evidence that God called me to this training.
We fasted and God answered.
I thought Mr, E was done there when he sent this message last night.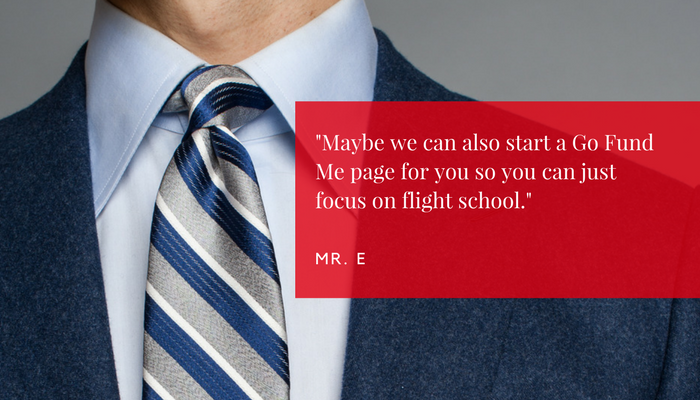 I feel like preaching right now. But I got to end here. I don't know where you are today in life, but all I can say is when God calls, answer the call.
Has God asked you to do something for Him but you don't know how to go about doing it? Trust Him.
Have you started something for God but gave up? Trust Him and go back to it.
Have you thought about doing something for the Lord but you are yet to start?
Trust Him.
Start today.
Here is what I wanted to start but was afraid to start. I've always thought about asking people to help me raise this money for school but was very afraid to do it.
My plan is like this:
$13,000 USD divide by $100 = 130 persons.
$13,000 USD divide by $50= 260 persons
If Mr. E's friend was able to raise $1,125 in three days, then how hard is it to raise $50 USD or $100 USD?
Are you a raven? Or maybe you can you help me find more ravens?
All we are asking you to do is partner with us over the next couple of months. Maybe you or someone you know can spare a few bucks, talk with that person, share with them our story.
We need your help and together we can do the impossible.
Make a prayerful commitment today and then email us about it to byhisstripes1844@gmail.com to let us know how you will help us on this journey.
For Ravens Part 1 click here
God bless!