COOKING SCHOOL RECIPES: Fabanaise
What on earth is a fabanaise?
A cross between fabulous and mayonnaise! Haha. Well, not really, but might as well. Right?
Seriously tho, faba (or fava) is another term for chickpea. And fabanaise is really a mayonnaise that does not consist of  any eggs, but chickpeas. Not the bean itself, but the brine in which it was cooked or stored (in a can).
That brine is what most people call aquafaba. That viscous, transparent, yellowish liquid that comes from cooking chickpeas.
I used to throw it away, until I heard the craze about aquafaba being the new egg of the century. A certain chef was trying to figure out how to make vegan meringue. Many people know that meringue's leading lady is the egg whites, and if you're gonna make it vegan, you better come up with something very much the same.
Enter aquafaba.
And people have been making it since as a viable substitute for anything that required egg whites. How awesome is that?
So here goes. Salut to a healthy, plant-based substitute for an eggless mayo!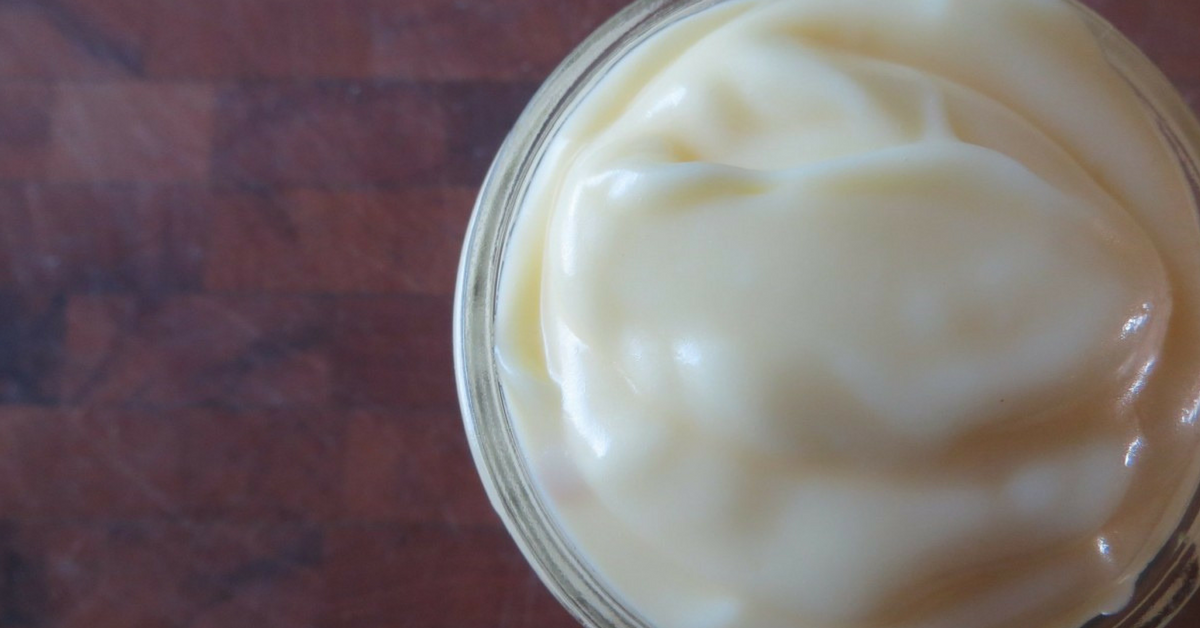 COOKING SCHOOL RECIPES: Fabanaise
A simple, easy-to-whip mayonnaise that doesn't require eggs.
Author:
By His Stripes Ministries
Cuisine:
Western, French, Vegan
Ingredients
¼ cup (60 ml) aquafaba
⅛ tsp cream of tartar
¼ tsp ground mustard
½ tsp sea salt
1 tbsp + 1½ tsp lemon juice
1 tbsp stevia or cane sugar
¾ cup avocado or grape seed oil (neutral oil should be used for flavour)
Instructions
Add aquafaba to a large mixing bowl along with cream of tartar, ground mustard, sea salt, lemon juice, and sweetener of choice. Blend on high with a hand mixer for 30 seconds to incorporate.
Measure the oil in a liquid measuring cup. Then, with the mixer on its highest speed, slowly stream the oil down the side of one of the mixers over the course of 5-6 minutes. This allows the oil to disperse evenly throughout the aquafaba as opposed to pouring it all at once.
Continue slowly adding the oil and mixing constantly on a very high speed until the mixture resembles mayonnaise.. The process can take up to 10 minutes. The more oil you add, the creamier and denser the texture will get (add no more than ¾ cup).
Taste and adjust flavour as needed, adding more sweetener of choice for sweetness (keeping in mind maple syrup will make it less thick and fluffy), lemon juice for brightness, acidity and tanginess, salt for saltiness, or mustard powder for mustard favour.
Use immediately or transfer to a sealed container to cool in the refrigerator until cold, at least 2 hours. Best when used within the first few days, but can keep in the refrigerator up to 1 week (sometimes longer).
Notes
*I found stevia, cane sugar, and brown rice syrup to be the best sweeteners, as they don't weigh down the mayo. Maple syrup is an OK alternative, but can make the mayo runnier.
*For a lower oil option, whip the aquafaba first with the cream of tartar until soft peaks form - about 4 minutes (see video). Then add ground mustard, sea salt, lemon juice, vinegar, and brown rice syrup and mix once more. Then stream in a little oil at a time until mayo consistency is achieved (a total of ~ ¼ cup (60 ml) oil). While lower in fat, I've found this option can separate a little when refrigerated (some liquid can settle to the bottom of the jar), so give it a vigorous shake to redistribute. The higher fat option is best and creamiest in my opinion!
*Nutrition information is a rough estimate for 1 (1 Tbsp) serving of 16 total servings, calculated with the entire amount of oil (3/4 cup or 180 ml)).
Nutrition Information
Serving size:
1 Tbsp (of 16 1-Tbsp servings)
Calories:
94
Fat:
10.7g
Saturated fat:
1.5g
Carbohydrates:
0.6g
Sugar:
0.6g
Sodium:
59mg
Protein:
0g