COOKING SCHOOL RECIPES: Awesome Oatburgers
I was a rice and fried fish girl. Oh, that with a side of soy sauce and tomatoes.
But ever since I was introduced to burgers, my oh my. I became a faithful customer of McDonalds, Jollibee, Burger King and Minute Burger. I probably would have eaten my way to heart attack, had I not been introduced to the health message.
It was not easy giving it up. I had to ask God to help me with changing my taste buds because my own efforts were no good.
I still remember the day after I prayed that prayer. It was July 4th, and a friend invited me to come with her to another friend's picnic. I was a poor grad student at that time and for me picnics meant free food. One less meal to worry about. So I went.
The picnic was great, and the food was awesome — corn on the cob, cold root beer, and of course, beef burgers on the grill. Oh wait, didn't I mention that I prayed the night before about changing my taste buds? Yeah, my conscience reminded me too. But I brushed it aside and mumbled to myself, "Just this once, Irene. You have the rest of your life to be vegetarian. Focus on today's provision."
So before good ol' conscience can answer back, I took a big bite of my burger, and gulped it down with root beer for good measure.
But here's the funny part. The burger that smelled oh-so-good tasted oh-so-rotten.
Yep.
I could've thrown it away then and there. But I took another bite to make sure my taste buds weren't playing tricks on me.
Still rotten.
So I asked my friend if her burgers tasted a bit rancid.
And in-between bites she was like,  "What are you talking about? This is the best burger ever!"
I knew right then that God had answered my prayer.
So when someone introduced me to vegan burgers for the first time, let alone using oats as a substitute, I was flabbergasted. Seriously? But it stood up to its reputation. It was hands-down one of the best vegan burgers I have ever tasted.
That was about 7 or so years ago. My knowledge of vegan burger making has evolved through the years, depending on the location and the available ingredients. I've made it with lentils, mushrooms, brown rice, back beans, tofu, and even leftovers from yesterday's meal. But every now and then I go back to making oat burgers to commemorate that day I said, "Bye bye, beef!"
Many people have asked me for this recipe, and I'm finally willing to share it with you! As for the condiments, well, you have to stick around so I can show you how to make your own ketchup, mayo and cheese. 🙂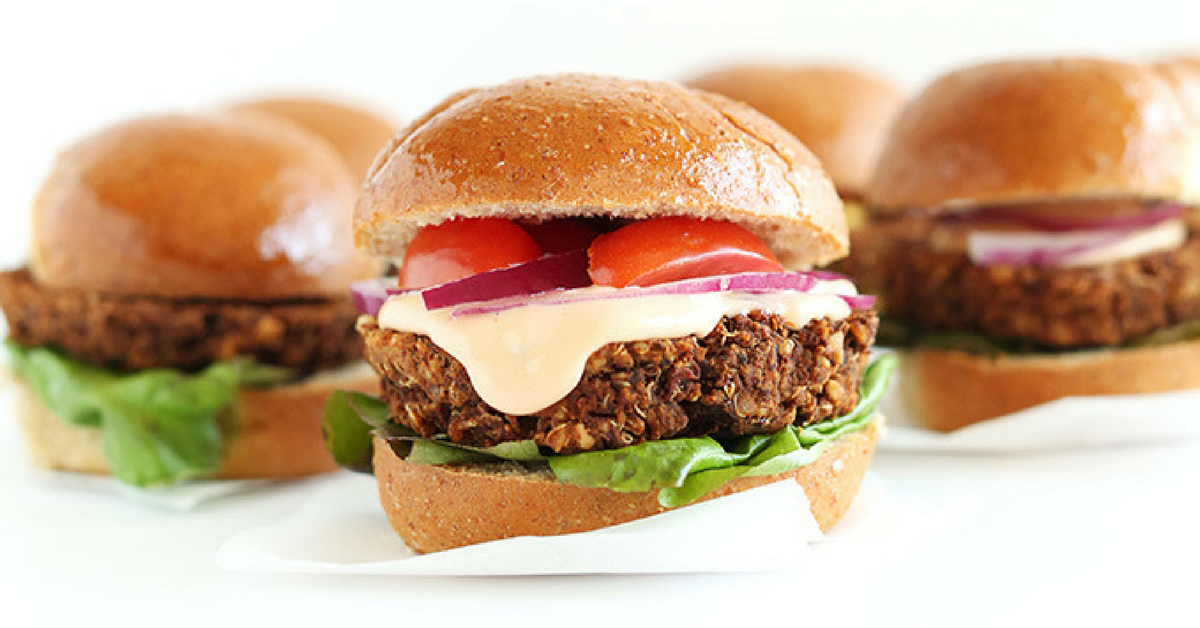 COOKING SCHOOL RECIPES: Awesome Oatburgers
A delicious, tasty and flavorful substitute to meat burgers that's good for your heart!
Author:
By His Stripes Ministries
Ingredients
1½ cup quick oats
1½ cup rolled oats
1 large onion ( I prefer purple because it has more flavour)
¾ cup chopped walnuts (or sunflower seeds)
3 cups water
¾ cup vital wheat gluten flour (omit if you want GF)
2-3 tbsp coconut oil (optional)
Seasonings
2 tbsp nutritional yeast flakes
2 tbsp soy sauce
1 tsp salt
3 tbsp onion powder
1 tbsp garlic powder
2 tbsp cumin
1 tbsp smoked paprika
½ tsp sweetener of your choice
2 tbsp Italian seasoning
Instructions
Place 3 cups of water in a pot and bring to a full boil.
While waiting for water to boil, slightly blend rolled oats. Remove from blender.
Toast walnuts for 7 minutes and slightly blend. Remove from blender.
Slightly blend onions. Remove from blender.
In the boiling water, put the yeast flakes, soy sauce, salt, onion powder, garlic powder, cumin, soked paprika, sweetener, Italian seasoning and chopped onions. Stir for about 1-2 minutes.
Add walnuts and oats and quickly stir until oats double in size.
Completely cool before forming into burger-sized patties.
Preheat oven to 350 F.
Form oat mixture into patties and place in a baking sheet.
Bake for 20 minutes. At 10 minutes mark, turn the patties.
(Optional) *Slightly fry or grill using coconut oil for a tastier burger patty.
Notes
*Burgers can be made ahead. Just put it in the freezer after it has cooled down from baking. Thaw and fry whenever you need to use it.