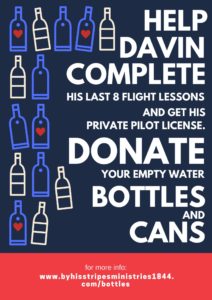 Hi guys,
Davin is just 8 lessons away from getting that private pilot license and he needs all the help he can get! So here is one more way that you can help support his missionary pilot training.
If you're around San Diego area, we would be willing to pick up your empty bottles and soda cans.
Just email us at byhisstripes1844@gmail.com to arrange a meet up and we'll be right there!
Your prayers and support are always welcomed and appreciated. God bless!
To know more about our cause, please check out  our story.